Doctors & Staff
Meet the experienced and friendly doctors and staff who make Robeson Family Vision Center the leading provider of vision care products and services in Winona.
---
Lane C. Robeson, O.D.
Dr. Robeson is originally from Huron, SD. He is a third generation Optometrist and learned from his father and grandfather that the key to success is to "take care of patients". He graduated from Pacific University, in Forest Grove, OR. After his graduation, he moved to the Winona area and started the family practice you see today! He has been a practitioner in the Winona community for more than 30 years, and has thrived in the small town atmosphere. Dr. Robeson, more than anything, enjoys spending extra time with patients in order to really connect with them on a personal level. All of our patients have found that they can count on Dr. Robeson to go the extra mile to make every visit as comfortable and enlightening as possible. Schedule an appointment today to meet him yourself, and see the difference in service and attitude.
---
Robin E. Theye, O.D.
Dr. Theye grew up locally in Chatfield, MN. She graduated with a Bachelors of Science from the University of Wisconsin-La Crosse in 2004. Dr. Theye received her Doctorate of Optometry from the Illinois College of Optometry in 2008. She spent six years practicing in La Crosse before joining Robeson Family Vision Center in 2015. Dr. Theye served on the Wisconsin Optometric Association board for several years and is the current President of the Southeast Society of the Minnesota Optometric Association. She is married and has a young son that she enjoys spending her free time with. Dr. Theye enjoys working with patients of all ages and is proud to provide the highest level of eye care in Winona.
---
Mara Schmidt, Optometric Assistant, ABOC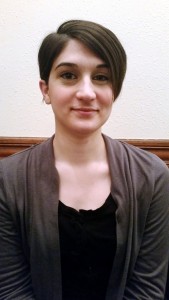 Mara came to the practice in October of 2014 with 5 years of retail optical experience. She has an eye for fit and will help you find the right frame for you! Trained in all areas of the office, Mara primarily focuses on selection, fit, and ordering of eyeglasses. Mara's specialty is unique adjustments, and she has no problems making your glasses feel "just right." She also likes funky and eccentric styles.
In her free time Mara enjoys volunteering on the board of directors for an all ages music venue in La Crosse, WI.
---
Michelle C. Corcoran,  Patient Services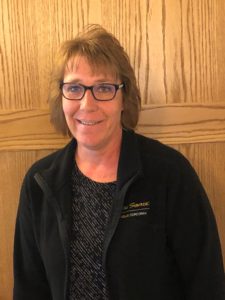 Michelle joined Dr. Robeson at Robeson Family Vision Center in September of 1999. Up until 2006 when the staff was expanded, Michelle covered all areas of the office.
As our office has continued to grow she now can focus on a few specific areas. She will greet you with a smile, help you check in before your exam and be sure your insurance information and other important paperwork are correct and in order. She continues to assist in all areas of our office. She enjoys working with the staff at Robeson Family Vision Center and provides each patient with friendly and kind care.
She was born and raised in Rollingstone, MN. Michelle and her husband have a son named Sawyer. She enjoys spending time with family and friends as well as their family dog Ozzie. Michelle also enjoys camping and watching her son play basketball and baseball.
---
Tina Abrams, Office Manager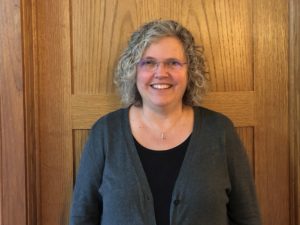 In November of 2013 Tina re-joined the staff of Robeson Family Vision Center (she came home), after working with Dr. Robeson in the late 1980's.
The last 22 years Tina had worked for a company in Winona with her primary focus on insurance.
Tina will be focusing in all areas when managing the office. She also specializes in carrying out all the insurance tasks. She provides excellent care and service and is compassionate about being a leader for the team she manages. Her door is always open and she makes the time to answer your questions.
If she is unable to answer your question she will find someone that can.
Tina is a member of Vision Source and looks forward to the meetings and the information she is able to bring back to the office. Tina is always looking for opportunities to further her knowledge in the eyecare profession along with the ever changing world of insurance.
Tina is a native of Winona and lives in Houston, MN with her husband Jeff. They have an English Springer Spaniels named Missy and Tootsie. Tina enjoys all aspects of the outdoors. She is very competitive when it comes to trout fishing and looking for morel mushrooms.
---
Hannah Dankers, Optometric Assistant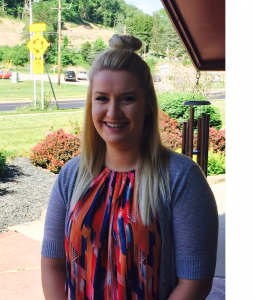 In May of 2017, Hannah joined Robeson Family Vision Center. Her primary job will be as a technician, providing specialty testing assisting the optometrist.
Originally from the Twin Cities area, She moved to Winona in 2012 to attend Winona State University. She lives with her roommates and chocolate lab. She loves to  go hiking with her dog or just being on the water in the summertime.
---
Emily Dunham, Optometric Assistant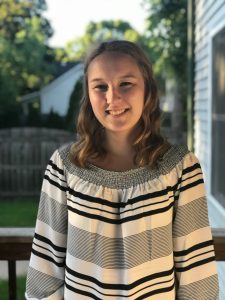 She is going to be in her third year at Winona State University and majoring in biochemistry and planning to go on to optometry school after she graduates. She is originally from a small town in Wisconsin (yes, that means she is a Packer fan) called Fall Creek. A few things about her include that she is a HUGE chocoholic (except dark chocolate).
Her favorite meal is a classic summer cookout with brats, hotdogs, potato salad, fruit, and baked beans.  Emily's favorite shows to watch are Grey's Anatomy and the Bachelor/Bachelorette.
In her free time, you will probably find her working out at the gym, enjoying the outdoors by going to the beach and paddle boarding with her friends or just having a movie night with roommates. Overall, She really enjoys exploring the city of Winona and what new things it has to offer.
---
Claudia Richard, Optometric Assistant
In June of 2019, Claudia joined the Robeson Family Vision Center as an Optometric Assistant. Claudia is from Winona, MN and attended Winona State University majoring in Literature and Language.
She lives with her husband Greg and their three dogs named Louie (Golden Retriever), Molly and Cindy (Chihuahua mixes). Claudia enjoys walks and hikes, swimming, cooking and baking, reading, and painting.
---
Maura Michener, Optometric Assistant
In June of 2019, Maura joined Robeson Family Vision Center.  She recently graduated with her bachelor's degree in biology from Saint Mary's University of Minnesota and is planning to go on to optometry school in the fall of 2020.  When she was in school she was on the women's soccer team at Saint Mary's and ran track and played hockey in high school. Outside of sports she was involved in many different music groups, playing percussion and piano.  In her free time she likes to read, go for hikes, go kayaking, and be outside and spend time with her friends and family.
---